The origins of the Returned Peace Corps Volunteers of New Jersey, Inc. (RPCV-NJ) have been explored recently. At the March 2019 RPCV-NJ Annual Meeting, Ed Henry gave a presentation and it was noted that in the late 1970s Ed had arranged for a gathering in South Orange.  Ed stated later that it was held at the Knights of Columbus Hall in South Orange.  That gathering was very well attended. Apparently Ruth Bednarz capitalized on the energy and enthusiasm at that gathering in South Orange and initiated the establishment of a formal organization.
Some background on the history of the Peace Corps that ties into RAV-NJ (Returned ACTION Volunteers)/RPCV-NJ:  In 1971 the United States established ACTION during President Richard Nixon's first term as the "federal domestic volunteer agency" and Nixon, an opponent of the Peace Corps, brought it under the umbrella agency ACTION.
President Jimmy Carter, an advocate of the program, said that his mother, who had served as a nurse in the program, had "one of the most glorious experiences of her life" in the Peace Corps. In 1979, he made it fully autonomous in an executive order. This independent status was further secured by 1981 legislation making the organization an independent federal agency.
The Returned Action Volunteers of New Jersey, Inc. (RAV-NJ) was formally established as a corporation in the State of New Jersey in July 1979. The individuals who were documented as the initial Board of Trustees of the RAV-NJ are as follows:  Edward G. Henry (South Orange, NJ), Ruth J. Bednarz (New York, NY), James E. Hill (Westfield, NJ) and Karen Jones (Dumont, NJ).  These four Trustees and Pamela Bowman (Berkeley Heights, NJ) were the undersigned incorporators of the organization.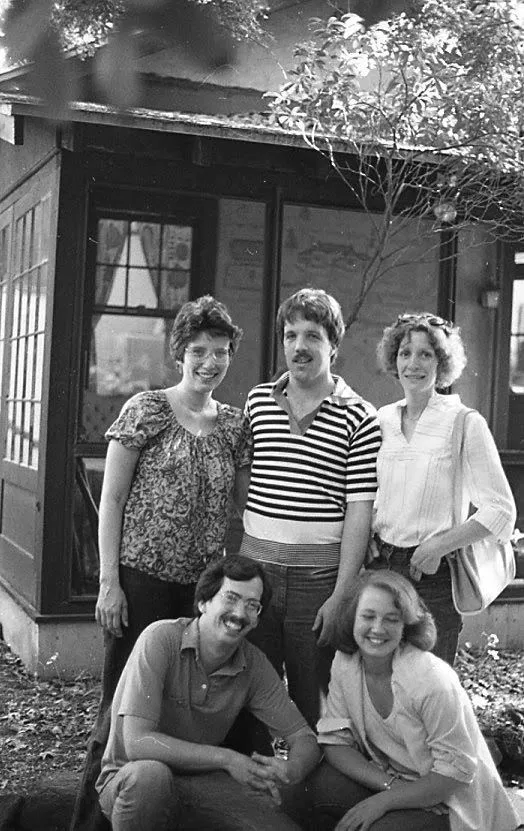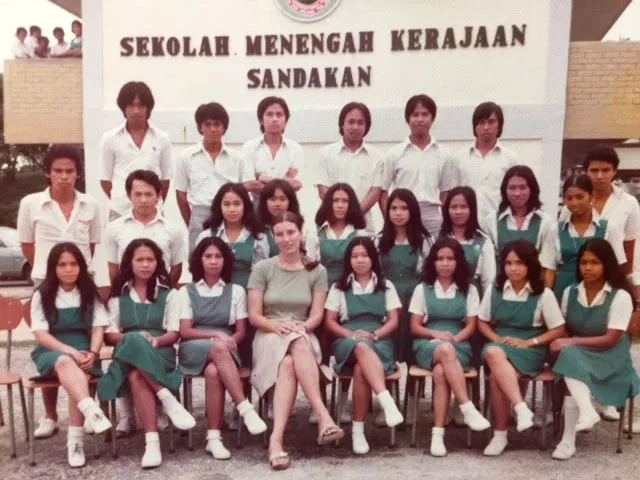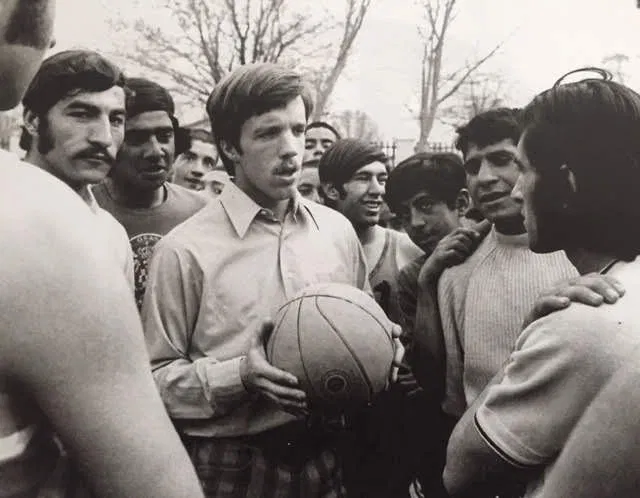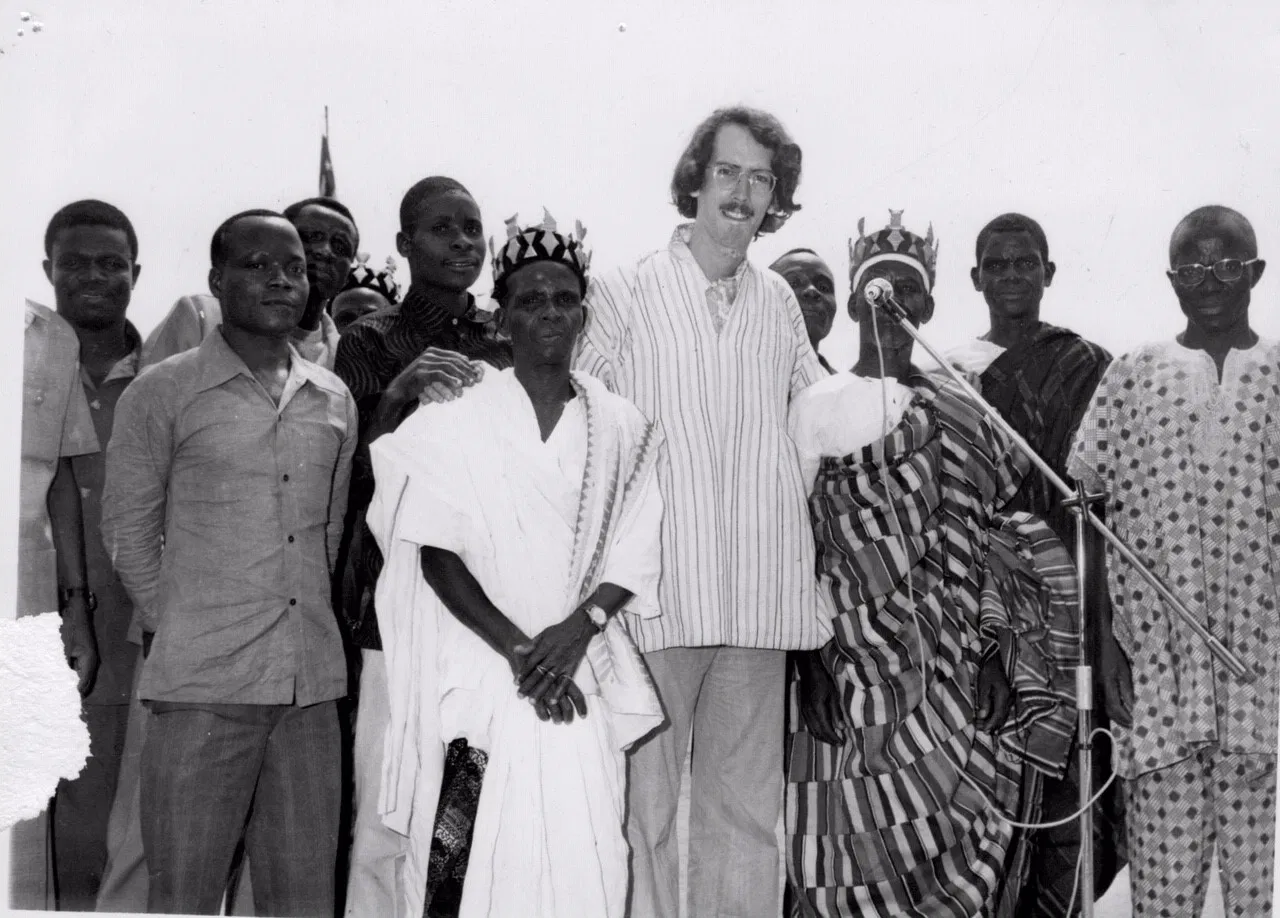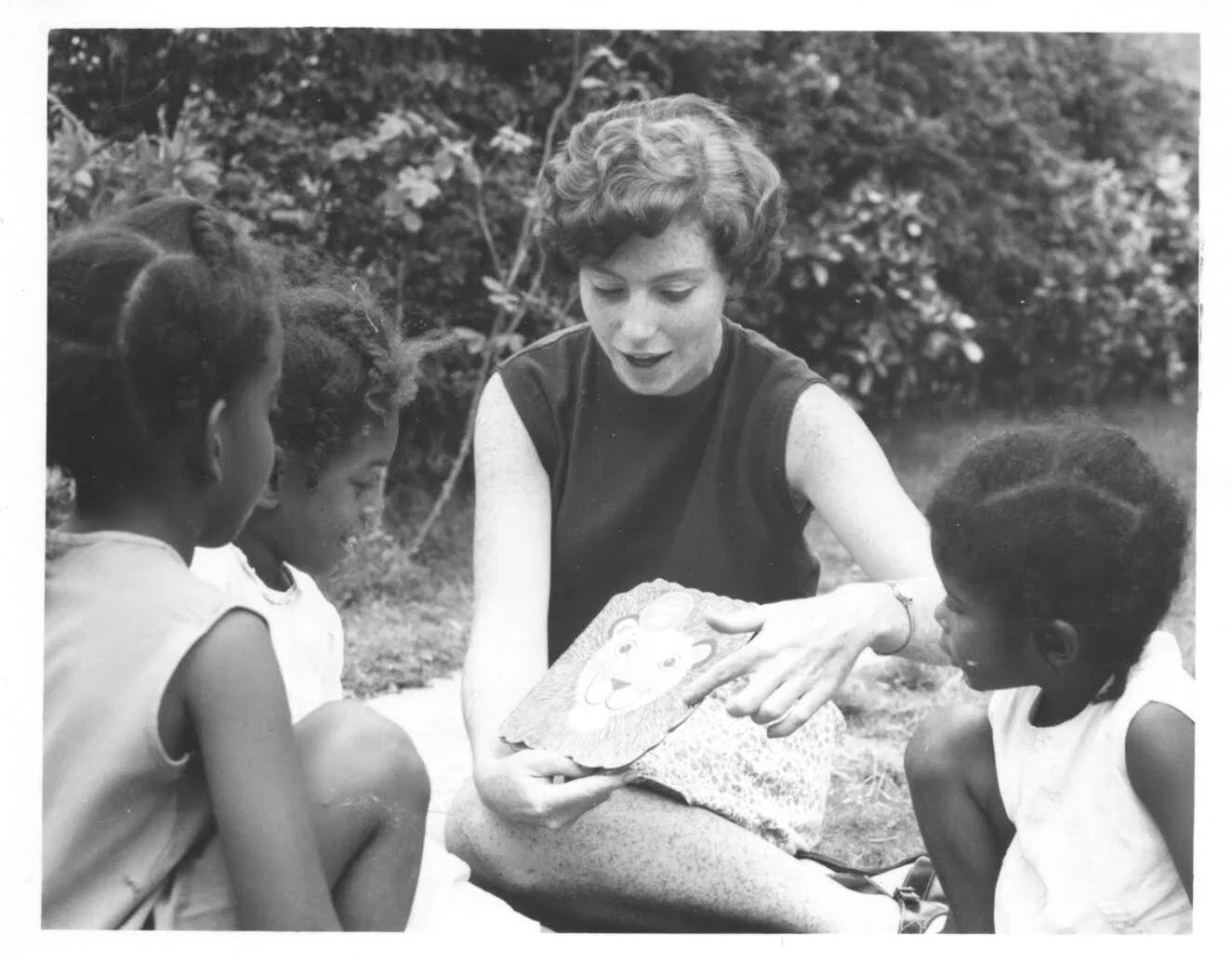 In February 1983, the certificate of incorporation was amended to change the organization's name to Returned Peace Corps Volunteers of New Jersey under signature of Sergio Leone, President, and Geraldine Gillio, Secretary, with associated changes to the bylaws which are in place today.
As of the meeting date, contact had not been established with Ruth Bednarz but Jim Hill stated, "I remember Ruth Bednarz very well as she was our first President. She is an RPCV who served in Malaysia. She was the real mover and shaker. Ed and I did our best to keep up with her. Ed was Treasurer, I think, or VP, and I was in charge of the Social Committee." Pam Bowman described Ruth as a "a real mover and a shaker – and quite a delegator." Pam recalls that the original group that set things in motion had the idea of a speaker's bureau which she participated in.  As a result of a discussion in January 2019 about the current Oral History Archive Project (provide link) recorded radio interviews (on cassette tape) in Jim Hill's possession were revealed earlier this year and included the following interviews from the late 1970s and must have fallen under this speaker's bureau initiative:
WJDM (Elizabeth station at that time) – April 19, 1979
Jim Hill (Togo) & Pam Bowman (Jamaica)
WSOU- News 89.5FM – Seton Hall University
Returned Action/Returned Peace Corps/Vista Volunteer Interviews
Jim Hill (Togo) & Ed Henry (Afghanistan)
Karen Jones– Paraguay (1973-76) & David Nebret– Paraguay (1976-78)
Sergio Leone (Micronesia)
Following the RPCV-NJ annual meeting Ruth Bednarz was found. Ruth, along with Ed Henry, was instrumental in establishing the Returned Action Volunteers of New Jersey (RAV-NJ), later to become the Returned Peace Corps Volunteers of NJ (RPCV-NJ) and the National Council of Returned Peace Corps Volunteers (NCRPCV) which later became the National Peace Corps Association (NPCA).  In her personal records she found photos and newsletters.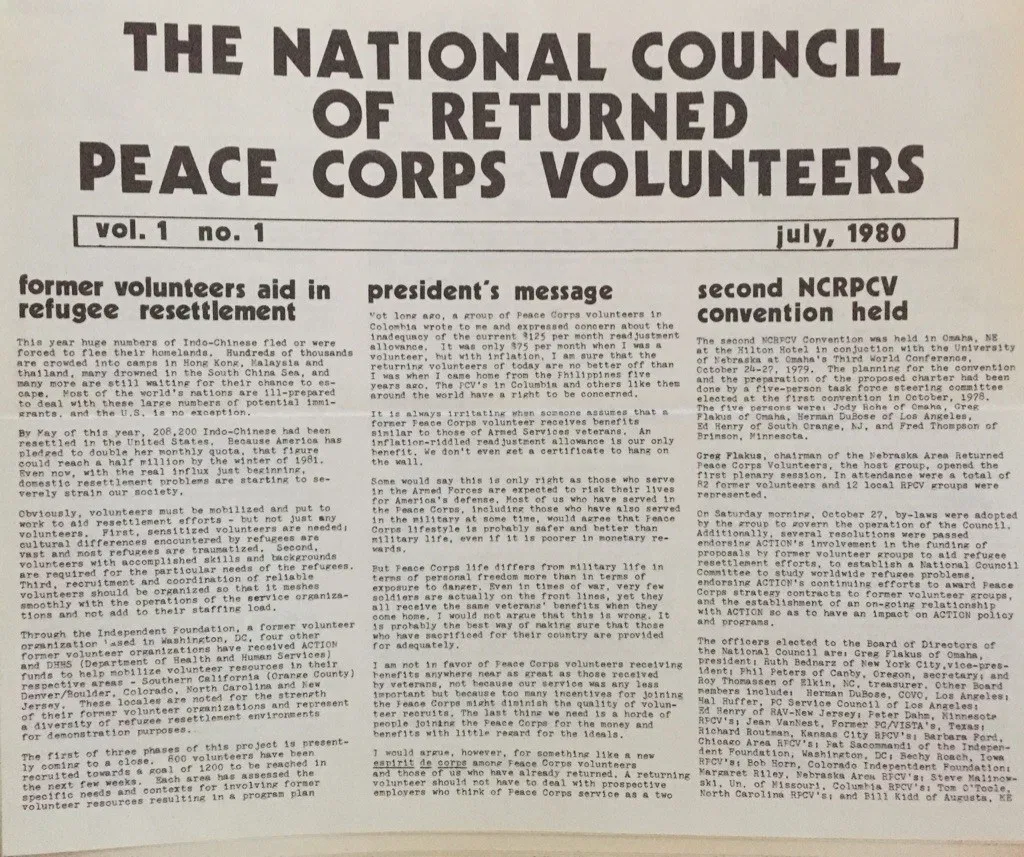 In Vol. 1 No. 1 July 1980 newsletter of the National Council, formed in October 1979, the officers of the organization were listed as:  Greg Flakus- President, Ruth Bednarz– Vice President, Roy Thomasson- Treasurer and Phil Peters, Secretary. A lead article in the newsletter reported on the first and second NCRPCV convention held:
The second NCRPCV Convention was held in Omaha, NE at the Hilton Hotel in conjunction with the University of Nebraska at Omaha's Third World Conference, October 24-27, 1979. The planning for the convention and the preparation of the proposed charter had been done by a five-person task force steering committee elected at the first convention in October 1978.  The five persons were: Jody Rohe of Omaha, Greg Flakus of Omaha, Herman DeBose of Los Angeles, Ed Henry of South Orange of NJ, and Fred Thompson of Brimson, Minnesota.
The newsletter also included reports from RPCV groups around the country including North Carolina, Chicago, Minnesota, Texas, Washington, DC, Nebraska and New Jersey, the later provided by Ed Henry, c/o RAV-NJ Teaneck, NJ:
In the spring of 1978 a social get-together was held for former Peace Corps and VISTA volunteers in South Orange, NJ, the result of a blind mailing to former volunteers in the area done by the New York Area ACTION office. A coordinating committee was formed, and the history of the Returned ACTION Volunteers of New Jersey had begun.

Our first programs in that first year included a Speaker's Bureau and a language bank. Our members appeared on a series of live radio interviews on a local college station and spoke to local groups and schools. Our language bank proved successful on a limited basis providing translation and interpreting services to the people in the North Jersey area. Social events were held for members throughout the year and several issues of a newsletter were published.

1979 marked a period of growth to 450 members; we applied for and gained non-profit status and restructured the organization to involve more RAVs in all parts of the state. Our activities expanded to include working with the handicapped, providing families for foreign students and aiding Indo-Chinese refugees through our first grant monies. Our future plans include working for a greater degree of quality in our existing programs and continuing to develop programs which will tap the resources that have been developed by Peace Corps and VISTA volunteers.
The Editorial in that first newsletter was written by Ruth Bednarz and reproduced here:
It gives me great pleasure to introduce this first issue of the NCRPCV Newsletter. After many months and with the cooperation of many Peace Corps volunteers and the former Volunteer Services office of ACTION, this newsletter serves to announce the formation of the National Council of Returned Peace Corps Volunteers.

When the National Council was formed in October 1979, its executive committee proposed that a periodic newsletter should serve as a discussion forum and a communications link for returned volunteers and their organizations – and that is how we propose to utilize these pages.

Scattered groups of volunteers across the nation have been in existence since the mid-60's. Some of these groups have grown into large complex service organizations; other groups are small and more recently formed; many areas have former volunteers who are not organized at all.

The National Council of Returned Peace Corps Volunteers is serving as a confederation of those former volunteer groups and individuals. Its aim is to provide a focal point for unified activities of local former volunteers and their organizations and can help assure the realization of the goals for which the Peace Corps was created.

We are a valuable national resource.  Let us collectively use our experiences and talents, and share our ideas and programs for the betterment of the communities in which we live and the world of the future which we will help to create.
In Vol. 1 No. 3 Spring 1981 of the National Council Newsletter the first published list of  Affiliated Groups was found:
Returned Action Volunteers/ New Jersey
Peace Corps Alumni North Carolina East
Kansas City Area Returned Peace Corps Volunteers
Community Volunteers/Southern California, Inc.
Chicago Area Returned Peace Corps Volunteers
Former Peace Corps/VISTA Volunteers of Texas
Southern California Peace Corps Service Council
ACTION Alumni Association of the Greater Washington Area
Nebraska Area Returned Peace Corps Volunteers
Piedmont North Carolina Returned Peace Corps Volunteers
Minnesota Returned Peace Corps Volunteers
Thanks to RPCVs from New Jersey who put in the time and effort to establish RAV-NJ/RPCV-NJ as well as the NCRPCV/NPCA and especially to Ruth Bednarz for saving these historic newsletters which documented the origins and initial activities of these two organizations.
Christie Musa, President
If anyone has information to add to the history of RPCV-NJ please email rpcvnj.president@gmail.com